Unparalleled Commitment to Students and Exceptional Learning Experiences.
The success of each student is of paramount importance to the faculty, trustees, and administration and we are unswerving in our commitment to students' academic, social, spiritual, and physical development.
Florida Southern academic programs offer students a wide variety of active learning experiences: stimulating class discussions; student-faculty collaborative research; student faculty collaborative performance; internships, study abroad; independent study; and service learning. The faculty members are dedicated teacher/scholars and have outstanding records of accomplishment that support dynamic, personalized instruction.
Student life flourishes through an extensive array of activities, programs, intercollegiate sports, intramurals and Greek life. Florida Southern's Division II athletic program is nationally acclaimed and boasts 30 national championships and over 300 All-American athletes. The campus ministries program is vibrant and supports student worship through a variety of services, trips and events.
The results of our student-centered culture are engaged students who thrive on the life of the mind, grow through leadership opportunities, understand the world better through study abroad and diverse relationships, develop spiritually, and establish life-long friendships. Consequently, Florida Southern has notable alumni who have excelled in their chosen professions as corporate leaders, physicians and dentists, ministers, scientists, entrepreneurs, civic leaders, teachers, and professional athletes.
Florida Southern is distinctive in promoting adventures of the mind and spirit. All aspects of College operations are aligned to ensure that Florida Southern students attain the educational preparation and skills to distinguish themselves through their contributions to society. We offer a transformational experience to our students and remain true to our 1883 founding principle of values-driven excellence.
Thank you for your interest in Florida Southern College. I encourage you to visit our world-renowned Frank Lloyd Wright campus and experience this extraordinary college.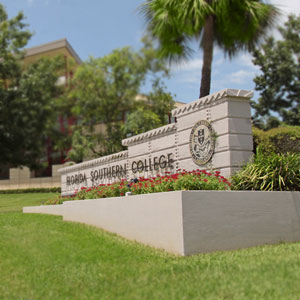 Office of the President
863.680.4100
863.680.5096