Barnett Residential Life Complex
Barnett Residential Life Complex
Perched on a hill over gorgeous Lake Hollingsworth, the Barnett Residential Life Complex makes for an impressive sight.
These buildings are designed by world renowned architect and Frank Lloyd Wright-enthusiast Robert A.M. Stern. What's more impressive is the view from the inside looking out. The vantage points from Wesley and Nicholas Halls are some of the most beautiful on campus.
The Barnett Residential Life Complex has more than just breathtaking views, though; it is home to a close-knit and relaxed student community. Both males and females live in the halls, separated into gender-specific floors. The bathrooms are semi-private and shared between three to five people. These buildings also offer a laundry room, student lounges, and community kitchens. Wesley and Nicholas's residents love to have movie and video game nights in their comfy quarters.
Traditional events in the student lounge include Super Bowl parties, pizza nights, or even potluck dinners that are cooked up in the communal kitchen. The co-ed halls create a unique and fun social atmosphere — you'll quickly get to know many people from your classes in the Barnett community!
It's incredible to wake up and see Lake Hollingsworth out my window every morning.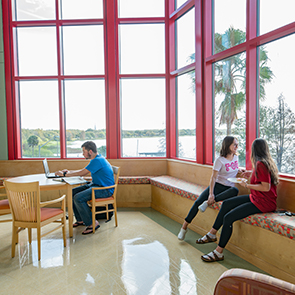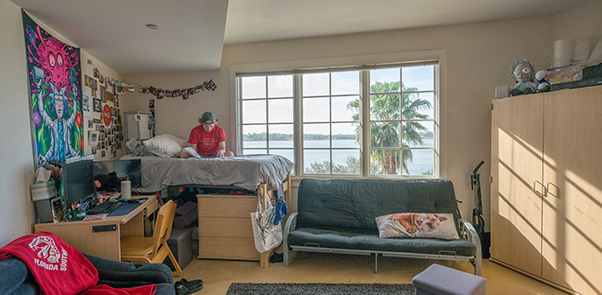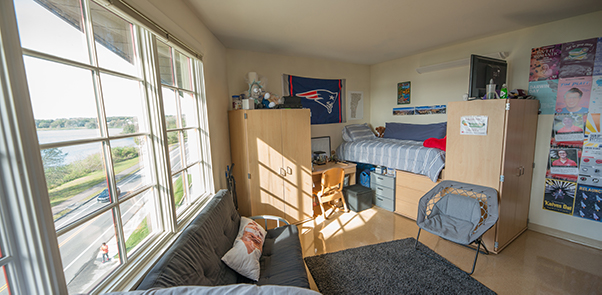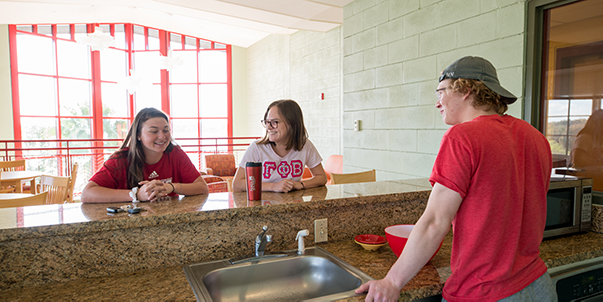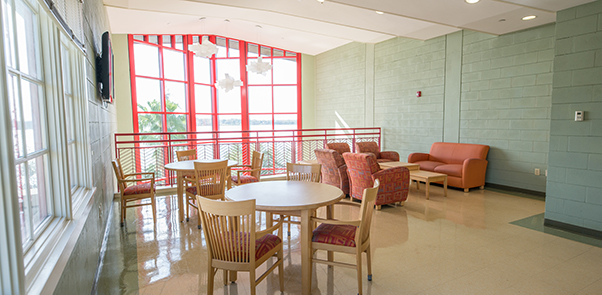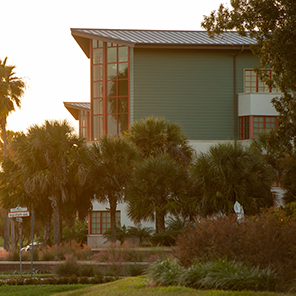 Free Laundry
Each residence hall has a nearby laundry facility that is free of charge for students living on campus.
Cable, High-Speed Internet, and Wi-Fi
Bring your TV and laptop to enjoy the latest technology in your room and around campus.
Fully Furnished Rooms
Your room includes a desk, bed, dresser, and armoire/closet to help you make the most of your space. Every first-year room comes with a freezer, refrigerator, and microwave.
Wellness Center with Gym
Looking to sweat off the calories in the gym or relax in a yoga class? The Wellness Center offers modern workout equipment and variety of fitness classes.
Year-Round Heated Pool
Enjoy the Florida weather and take a dip in the pool. Whether it is 60 or 90 degrees out, the water is always perfect!
Sand Volleyball and Tennis Courts
Outdoor fun is always available. Get competitive with your friends on the sand volleyball or lighted tennis courts.
Lakeside View
Wake up to a lake view every morning. The views from the Wesley and Nicholas Halls are some of the most beautiful on campus.
Study Spaces Outfitted with Computers
No matter where you live on campus, there is a study space nearby. Equipped with computers for student use, you can leave your computer in your room.
Secure Swipe Card Access
Residence halls are swipe access only, limiting entry to residents of the building.