Allan Spivey Hall
Across the courtyard from Joseph-Reynolds, you'll find our all-male option. "Spivey" offers a traditional hall setting similar to the women's counterpart.
With the historic nature of the building, no two rooms are entirely identical. Rooms accommodate single and double living. Bathrooms are either inside the rooms (some have private baths) or are community-style, shared facilities located in the hall.
Are you looking for your roommate? No doubt he's hanging out in the nicely outfitted first-floor lounge. Equipped with a large-screen television and pool table, you can imagine that's where most Spivey residents spend their time. Of course, the hall is also very functional; the lounge is furnished with tables for quiet study, and there is a laundry room conveniently located inside the building.
Spivey residents tell us they enjoy the strong sense of community that this all-male hall offers. Resident Advisors often organize events in the lobby with free food and drinks, where everyone can gather to watch the football game or play Xbox. Living in Spivey allows you to make friendships that will last to graduation day and beyond.
As a Resident Assistant, I'm here to make your hall a welcoming and comfortable place for you to live, study, and just hang out. In your first year, you'll discover your RA is a resource, an advisor, and a friend. My door is always open.
Resident Advisor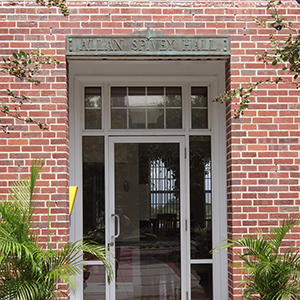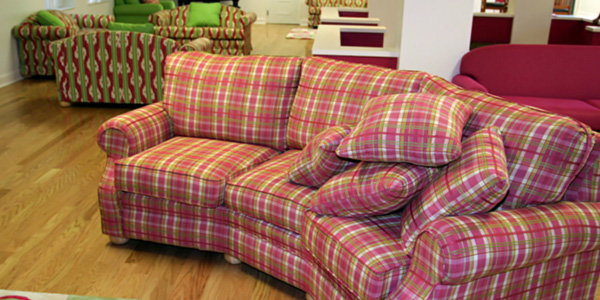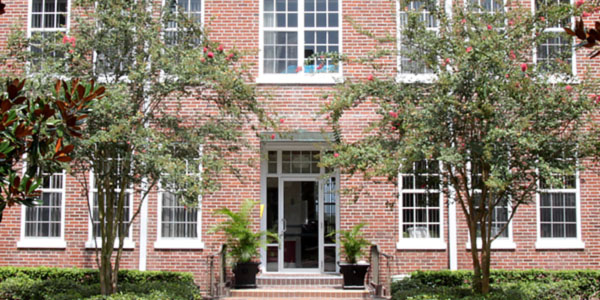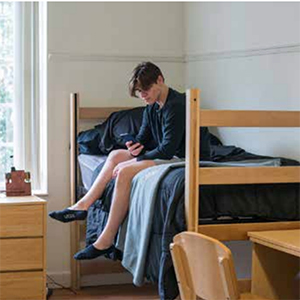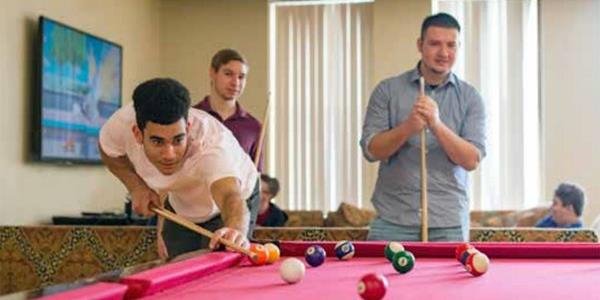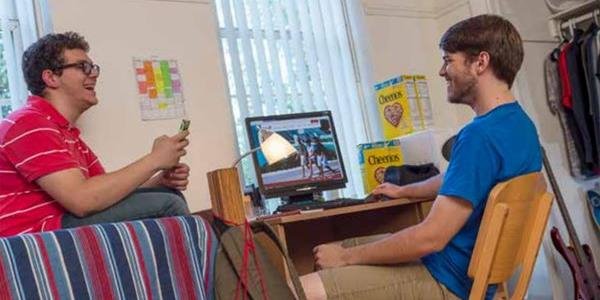 Free Laundry
Each residence hall has a nearby laundry facility that is free of charge for students living on campus.
Cable, High-Speed Internet, and Wi-Fi
Bring your TV and laptop to enjoy the latest technology in your room and around campus.
Fully Furnished Rooms
Your room includes a desk, bed, dresser, and armoire/closet to help you make the most of your space. Every first-year room comes with a freezer, refrigerator, and microwave.
Wellness Center with Gym
Looking to sweat off the calories in the gym or relax in a yoga class? The Wellness Center offers modern workout equipment and variety of fitness classes.
Year-Round Heated Pool
Enjoy the Florida weather and take a dip in the pool. Whether it is 60 or 90 degrees out, the water is always perfect!
Sand Volleyball and Tennis Courts
Outdoor fun is always available. Get competitive with your friends on the sand volleyball or lighted tennis courts.
Entertainment Room
Equipped with a large screen television and a pool table, you can imagine that's where most Spivey residents spend their time.
Study Spaces Outfitted with Computers
No matter where you live on campus, there is a study space nearby. Equipped with computers for student use, you can leave your computer in your room.
Secure Swipe Card Access
Residence halls are swipe access only, limiting entry to residents of the building.