Ticket and Seating Information
Ticket and Seating Information
The Robert A. Davis Performing Arts Center at Florida Southern College consists of several auditoriums and recital spaces. Please check the event's listing and confirm the theater in which the show is being presented.
Single Admission Ticket Prices
Music Events
$10 adults and $5 children (under 18)
Theatre and Special Events
$20 adults and $10 children (under 18)
Faculty and Art Series
Music Faculty Artist Series and Art Show events are free of charge.
FSC Employees and Students
Free for FSC Faculty, Staff and Students with ID
Box Office Hours
Monday - Friday
2:00 PM to 6:00 PM
Branscomb Auditorium
General Admission Seating
863.680.4296
Buckner Theatre
Reserved Seating
863.680.3089
---
Robert Davis Performing Arts Center, Anne MacGregor Jenkins Recital Hall
(Free General Admission Seating, Reservations are encouraged)
How to Purchase
Tickets for all Festival of Fine Arts events may be purchased in person using cash or credit card at the Branscomb Auditorium Box Office, located on Johnson Avenue (use Parking Lot VA), or by telephone at 863.680.4296. Tickets may be purchased online at any time.
Venue Information
Each venue will be opened for seating one hour prior to performance unless prevented by special circumstances, i.e. if in rare cases visiting performers should need extra time for sound checks or stage adjustments.
Branscomb Auditorium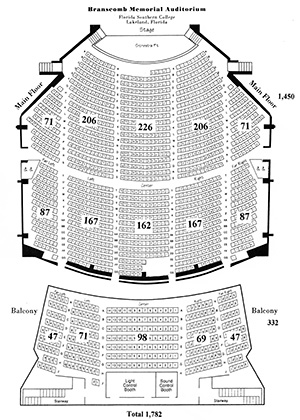 Buckner Theatre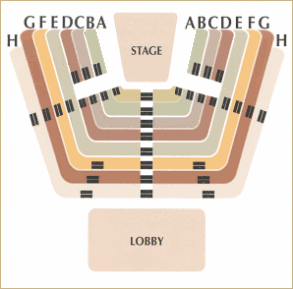 Anne MacGregor Jenkins Recital Hall (B202)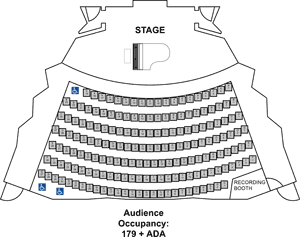 Please Note: The use of cameras, recording devices, or cellular phones is strictly prohibited at all performances. Smoking is allowed in outside peripheral areas only. We also ask that no food or beverages be brought into lobbies or seating areas anywhere in the center.
Directions and Parking
The Robert A. Davis Performing Arts Center is located at 1100 Johnson Ave, Lakeland, FL 33803-1309, just off Lake Hollingsworth.
Parking at Florida Southern is both convenient and plentiful. The most convenient parking area is the VA lot located at Park Street and Johnson Avenue. (See campus map)
Reserved handicap parking will be available only for the special event performances and the Christmas Gala. Please call the FSC Safety Office at 863.680.4125 the day before the performance to reserve a handicap parking space.