Zuleymie Rivera
Admissions Counselor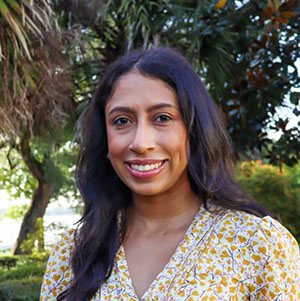 Supporting students in their college search is my favorite part of this role. I love getting to know the students and their families while being able to guide them through the admissions process and finding a college that is the perfect fit for them — hopefully, it'll be Florida Southern. Go Mocs!
Biography
Where are you from?
I am from the lovely city of Lakeland, FL! My family moved here when I was two years old and has been here ever since.
Favorite Places to Hang Out in Lakeland
You can generally find me in Downtown Lakeland or on Lake Hollingsworth. I also love to hang out at the Silver Moon Drive-In Theatre and enjoy picking up my holds at the public library.
Favorite Restaurant in Lakeland
Black & Brew is my favorite casual cafe for great soups and sandwiches. Harry's Seafood Bar & Grille is my go-to restaurant for their bread rolls.
The Perfect Saturday
Having a late morning in bed reading books and then meeting some friends for lunch and window shopping is the perfect day! It's always great to walk around downtown on the weekend since so many community events take place there. My favorites are the art festivals and farmers markets.
Favorite Books/TV Shows
I love reading anything fiction! What I'm reading typically depends on my mood, but the best bet is I am either reading romance, thrillers, or fantasy. My favorite TV shows are reality shows like Love Island and game shows.
Something Surprising About Me
I have never lost a headstand-holding contest.
Education
B.A. in English with a concentration in Writing & Rhetoric, M.A. in Publishing, certificate in Professional & Technical Writing
Interests
In my free time, I love to read and do Pilates.