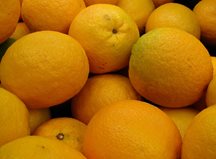 Was named after the city of Valencia in Spain
One of the most well-known varieties
Sweet Orange
Used as a very popular juicing orange because of its' sweet tasting, colorful juice
Valencia oranges account for a large amount of the Florida citrus crops
Valencia oranges have seeds, varying in number from zero to nine per fruit. Its excellent taste and internal color make it desirable for the fresh fruit markets, too. The commercial harvest season in Florida runs from March to June.