Research Instruction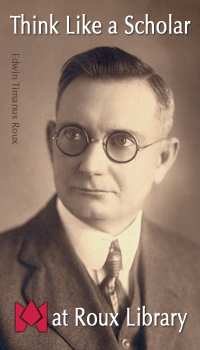 Roux Library offers individual and group instruction in the use of library materials and online databases. During the 2020 fall semester, group instruction is offered via videoconference. Individual consultations can occur via videoconference or over the phone. To make arrangements for a library instruction class or research appointment, contact an Instructional Services Librarian at 863-274-2039.
The Roux Library instructional services team utilizes the Threshold Concepts contained in the ACRL Framework for Information Literacy for Higher Education to deepen the library's support of the curriculum and the instruction of information literacy skills. Our goal is to provide students the personalized attention they need to navigate the complex information environment of today's academic setting.
Circulation of Library Materials
Borrowing privileges are limited to Florida Southern College students, faculty, and staff. Presentation of a valid college ID is required to check out materials. Alumni of the College, members of the Board of Trustees, and other individuals designated by the Director of the Library are eligible to receive a library card providing for checkout privileges for two items at a time, subject to all library policies.
Roux Library provides in-house access to many of its physical resources to the public. Priority use of facilities and services is reserved for Florida Southern students, faculty, and staff.
Learn more about circulation services
Course Reserves
Many professors place books and other materials on reserve in the library so that students may use them outside of class for special projects. These are shelved at the Circulation Desk, and are available for use in the library or (under limited circumstances established by the professor) for overnight use. Roux Library maintains a core collection of current textbooks on reserve.
Library Resources for Students Taking Online Courses
Review information about access to Library Resources for students taking online courses from Florida Southern College.
Poster Printing Service
Roux Library offers a poster printing service for FSC students, faculty, and staff. Posters are printed on 42-inch wide heavyweight paper. This service is available Sunday 2:00pm-10:00pm, Monday-Thursday 9:00am-8:00pm, and Friday 9:00am-4:00pm. The library requires two business days' notice to guarantee printing, with appointments given higher priority than walk-ins. During the last two weeks of the semester, ALL requests must be scheduled ahead of time.
The library may decline a printing request if the poster does not relate to the curriculum, or for any other reason. Contact the library at 863-680-4164 to schedule an appointment or for more information; you must be present to have a poster printed.
Poster printing charges are determined charged by length, up to 36 inches costs $15.00, up to 48 inches costs $20.00, and each additional one-foot increment is charged at $5.00 per foot. Permission to charge a college department must be granted in advance, and payment upon placement of order is preferred. Payment is accepted via cash, check (made out to FSC), or your student account can be billed.
Proofread your poster. You pay for reprinting if mistakes in the text or images are discovered after printing.
Printing Preparation
Your poster must be printer-ready. This web site gives tips: www.posterpresentations.com/html/free_poster_templates.html
Create your poster using desktop publishing software such as Microsoft Publisher or image editing software such as Photoshop.
Your poster must be saved as a .pdf, .tif, or PowerPoint file. A .pdf often produces the best results.
If using PowerPoint, save the file as a .pdf in the same dimensions as the poster to be printed. Remember that this will only save a single slide so place all materials on the slide you want to print.
When selecting graphics or images choose at least 300 dpi (600dpi is better) in a .jpg or .tif format. This will help mitigate pixilation when enlarged.
Poster-ready files may be sent to posters@flsouthern.edu or brought to the library on a flash drive.
If you need assistance creating a printer-ready poster file, please contact the Rinker Technology Center Help Desk at 863-616-6426 for assistance, Monday-Friday.
Study Carrels
Students, staff, and faculty of Florida Southern College may make use of six private study carrels on the second floor of Roux Library and four study carrels on the second floor of the McKay Archives. These spaces feature a chair, a table, and an electrical outlet. The rooms may only be used by one individual at a time. Rooms are available on a first-come, first-served basis.
Supplies for Loan
Need a portable whiteboard with markers and eraser? An umbrella, a calculator, a stapler, a three-hole punch, or an HDMI cable? These and more supplies are available for short-term loan at the circulation desk! Note: due to COVID-19, the library no longer loans headphones. Earbuds are available at the desk.
Quality Service Policy
It is the policy of Roux Library and the McKay Archives Center to provide exemplary service to all of our patrons, including students, faculty, staff, community users, and researchers. This three-point Quality Service Policy was adopted by the library staff in September 2007, and was revised in July 2014.
The library and archives staff will foster an environment which welcomes patrons and encourages them to return.
The library and archives staff will seek the optimal customer service solution to every patron interaction.
The library and archives staff will share responsibility for communicating solutions to patrons.