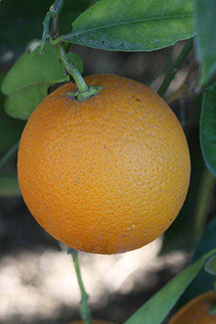 First planted in Mr. Owens grove near Citra, Florida
It is named pineapple because of the aroma it emits
It is a mid-season variety
Harvest is between December and February
"The Pineapple originated as a seedling on the place of J. B. Owens at Sparr, near Citra, Florida, and is said to have come from seed planted soon after 1860. It was first propagated by P. P. Bishop at Citra about 1873 under the name of Hickory and some ten years later was renamed Pineapple because of its delicate fragrance. Its attractiveness, fine flavor, and good market reception brought about some increase in use, but it was not until after the 1894-95 freeze, which necessitated extensive replanting, that its popularity developed. It soon became the principal midseason variety and has remained so ever since."
Hodgson, R.W. 1967. Horticultural varieties of Citrus. In: Reuther, W., H.J. Webber, and L.D. Batchelor (eds.). The Citrus industry, rev. University of California Press.