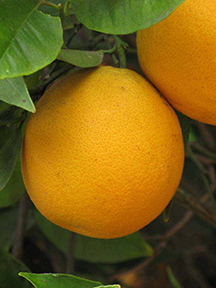 Is a cross between a Mediterranean Sweet Orange and Hart's Late
Named after the Chinese-American Horticulturist that bred it
Characteristics similar to Valencia
Crown compact or dense, not weeping. First year twig surface glabrous; second or third year twig surface striate; thorns absent or not persistent; prickles absent or not persistent. Leaflets sweetly orange-like when crushed. Fruit as broad as long or longer than broad, rind yellow-orange, orange, or red-orange, rind texture slightly rough, firmness leathery, navel absent, flesh orange, taste acidic-sweet.