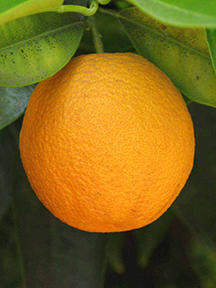 Mid-season
Sweet Orange
Seedling discovered in Homosassa, Florida
It is said to have come from The Yulee groves
One of the oldest Florida varieties
"According to Webber (1943), Homosassa is one of the oldest Florida varieties, having originated as a seedling selection in the orchard of a Mr. Yulee at Homosassa. The selection must have been planted not later than 1865, for in 1877 the Variety Committee of the American Pomological Society recommended it as a first-class variety. It was extensively planted for some decades, and there are old orchards still in existence. Like certain other Florida varieties, however, Homosassa is of indifferent quality in arid climates and has not achieved commercial importance elsewhere."
Hodgson, R.W. 1967. Horticultural varieties of Citrus. In: Reuther, W., H.J. Webber, and L.D. Batchelor (eds.). The Citrus industry, rev. University of California Press.