Founded in 1897 at the University of Maine, Phi Kappa Phi is an honor society that draws its members from all academic disciplines within colleges and universities. Each year, approximately 34,000 students, faculty, professional staff, and alumni are initiated. Election to membership is by invitation only, with only the top 10 percent of senior class members and graduate students, and the top 7.5 percent of juniors eligible for invitation.
The Society's mission is "To recognize and promote academic excellence in all fields of higher education and to engage the community of scholars in service to others."
Phi Kappa Phi at Florida Southern College
Chapter 295 of The Honor Society of Phi Kappa Phi was chartered at Florida Southern College on April 14, 2005.
Chapter Events
The Florida Southern College chapter of Phi Kappa Phi has sponsored the college's annual Fiat Lux academic showcase since fall 2016. The chapter awards cash prizes to the three top presenters, who are named recipients of The Phi Kappa Phi Award for Scholarly Presentation, a local award.
Phi Kappa Phi initiated its Spring 2018 class of students on April 26. Congratulations to all of our new members!
2017 Spring Senior Class Initiates
Shalisa M Barnett
Sarah Ellen Cole
Victoria Alison Frisina
Chelsea Kidd
Morgan Elizabeth Siebka
Linnea Skymberg
Edward Spansk
Ashlyn M. VanDenDriessche
Suzanne F. Wilson
2017 Spring Junior Class Initiates
Jacob Thomas Andreson
Alec Bigness
Alex Bockorst
Sydney R. Chiarito
Jennifer Morgan Cranston
Stacy Marie Graham
Danielle Kayleigh Guida
Alexandra Hamilton
Allison M. Howard
Joshua Lee
Marielle Martinez
Madeline Reed Sliwa
Laina Sweetney
Marlie Vaughn
Kate Elizabeth Vita
Makenzie Zoller
2017 Spring Graduate Program Initiates
Florence Akua Agyeman
Joshua Bieber
Shane Bridgman
Mallory Beth Browning
Jennifer Campbell
Bryan Dhue
Kelley L. Diefenderfer
Allison Fojtik
Kerri L. Gambrel
Bethany Gaultney
Allison P. Guthrie
Sandra Kay Heisler
Yvette M. Herrington
Rachel L. Ile
Deena M. Jenkins
Alexandria Lane
Rachel A. Mostert
Lauren Parkes
Kara Marie Pinero
Christy Robinson
Belinda A. Smelser
2016 Spring Senior Class Initiates
Daniel Comer
Kelsey Gouge
Brandy L. Graves
Brandi Nicole Jones
Brittany Mockler
Taylor Alexa Oliver
Nicholas Aaron Reinarts
Ashley Ruth Webb
2016 Spring Junior Class Initiates
Sabrina Leigh Chianese
Blake Crosby
Grace Anne Diaz
Maxwell Mead Flick
Anisha Mano Koilpillai
Laurent Mailloux
Molly Louise McKeever
Shannon Lynne McKew
Brittany Leigh Page
Dariella Carmen Parejas
Shaylen Patel
Leyna Stemle
Megan Todd
Courtney L. Troxel
Megan Kennedy Yingst
2016 Spring Graduate Program Initiates
Elfia Alcala
Lyn Anderson
Ashley Bailey
Emily Nicole Beriswill
Kathi R. Brown
Tracy Lee Eilers
Anissa Beth Hohnstreiter
Ashley Newman
Alma Fernanda Palacios Guzman
Vanessa C. Saunders
Jennifer Lynn Selfridge
Susan Gail Wolfe
2015
No initiation was held during calendar year 2015. The chapter intended to move to a fall initiation cycle, but was unable to schedule one during fall 2015.
2014 Spring Senior Class Initiates
Corbett Rennolds Cofer
Preston Ficquette
Erin Fleming
Lindsey Michelle Fredner
Erica Mason
Alyssa Maria Perez
Jeffrey J. Zines
2014 Spring Junior Class Initiates
Grace Anne Beggs
Abby Boone
Heather Marie Burns
Christina R. Camp
Jessica Chakis
Ashley Nicole Fairbrother
Lexi Michelle Gauslow
Daniel T. Gay
Jennifer Belle Gray
Tiffany Jenkins
Cristen Jean Kelly
Jacqueline Lundell
Jackie Lin Metz
Lauren Nash
Jasmine Nazirbage
Kristin Norkeliunas
Raegen Norman
Haley Pack
Nicholas Preziosi
Wiresh Punwasi
Rachel B. Schwemin
Ana M. Timmer
Erin N. VanLandingham
2014 Spring Graduate Program Initiates
Dion Carl Cameron
Leah LeeAnn Cartwright
Katherine C. Davidson
Katha D. Ellis
Jeffrey Scott Jokinen
William Douglas Keeler
Wesley Lowe
Andrea Merritt
Kristyn Monahan
Kathryn Nummer
Wesley Paul
Tristan John Rainone
Terri Janette Schneider
Christine M. Wilson
Sara Zines
2014 Spring Faculty Initiates
Brad E. Hollingshead
Eric Kjellmark
Gabriel J. Langford
An-Phong Le
2013 Spring Senior Class Initiates
David Bruce Boyd
Audrey H. Cleveland
Derek Deibert
Alana Berrittella Hoffman
Philip G. Lancaster
Alyssa Shuey
2013 Spring Junior Class Initiates
Alexandra Maria Boelke
Kenneth W. Curry
Brianna Lynn Davis
Leighann Davis
Justin F. Fox
Desiree Ippolito
Tye Allen Jensen
Grace Catherine Keiffer
Katherine Luecht
Catherine Miller
Jessie Mobley
Ashley B. Myrberg
Shawn W. O'Keefe
Robert Quay Swan
2013 Spring Graduate Program Initiates
Blaine Gordon Butcher
Kim M. Cardinali
Debra A. Chumney
Joanie Corbin
Konstantin Fedotov
Robert Jeremy Fish
Michelle A. Gibson
Charlotte Lyvette Halkiades
Courtney Hartman
Catherine Lois Johnson
Kimberly Rae Kelley
Mirda Danielle Mayard
Charlotte McGahee
Neicy C. McGrath
Karol Doetzer Olafsson
Karen E. Pfotenhauer
Sharon Harwell Richard
Lars Sebastian Richardsson Bergh
Jerard E. Rodriguez
Claire M. Schwartz
Michele Simmons
Barbara J. Willcockson
Christina Nicole Wright
2012 Spring Senior Class Initiates
Victoria Kathryne Acosta
Marco Joseph Bernard
Kristin Buechel
Joanna Marie Bussey
Robert A. Cutrupi
Sarah Dittmer
Katherine Elizabeth Harris
Jessica Nicole Levance
Sofie Pauline Lundberg
Erica Danielle Santiago
Morgan Schreiber
William R. Sunailitus
Kelsey Tressler
2012 Spring Junior Class Initiates
Craig A Adcock
Kayla Brukardt
Genesis Castellon
Brian Covello
Jessica Catherine Du Preez
Sarah Elizabeth Ford
Arielle Hollman
Cheyenne Dawn Kiddy
Lindsey R. Massaro
Virginia Anne Matha
Anna McIntyre
Marla Sue Meabon
David Andrew O'Neil
Madison Ouellette
April Lyn Perry
Sarah Perry
Katherine Plank
Divya Puri
2012 Spring Graduate Program Initiates
Kimberly E Beals
Sarah Bennett
Derrien A. Bonney
Julie Collins
Laura Gonzalez
Janice P. Heidel
James W. Martinez-Ruiz
Kristen Marie Placek
2011 Spring Senior Class Initiates
Joseph Sipiora
Megan Statler
2011 Spring Junior Class Initiates
Abby Bertholf
Jennifer Brynn Caron
Michelle Wagner Castillo
Erin Ferguson
Allyson Fisackerly
Jennifer Hilmer
Erin Marie Ireland
Lauren Lisko
Alyson J. McCoy
Kelsey Ann Owen
James Thomas Reynolds
Karlyn A. Scott
Melissa Marie Spilman
Amber Nicole Vallan
2011 Spring Graduate Program Initiates
Kara Elizabeth Bailey
Guenther Fercher
Kimberly Grant
Naheed Kamal Haider
Ursula E. Kennedy
Karen Page
2010 Spring Senior Class Initiates
Kelly A. Higgins
Matthew James Paidas
Michael Louis Saco
2010 Spring Junior Class Initiates
Taylor Elaine Alter
Morgan D. Brown
Jennifer C. Bruno
Emily Anne Canterbury
Bethany Lauren Henderson
David Michael Hensarling
Olivia Howard
Diane Marie Kendall
Givi Kokaia
Stephanie Joan Meyers
April Louise Pearson
Caroline E. Roberts
2010 Spring Graduate Program Initiates
Donald E. Pipkin, Sr.
Ashley Dawn Radford
Lucinda Rowand
2009 Fall Senior Class Initiates
Elise Nicole Burke
Eugene C. Fanning
Alaina Hobbs
Alyssa Rose Huebner
Lauren Michelle Kaufmann
Sarah Elizabeth MacDonald
Sara Louise Planco
Samantha Lyn Taylor
Donald Stephen Thorn
Karys Whitehead
CaSandra M. Whitlock
2009 Fall Graduate Program Initiates
Joan M. Connors
Elizabeth Lisa A. Johnson
Kelly A. Mulvihill Lovett
Nancy L. Sallman
2009 Spring Senior Class Initiates
Jessica Anne Brown
Kathrina Cann
Sarah Rose Mitchell
2009 Spring Junior Class Initiates
Laura A. Howell
Adam C. Miller
Krystal Newman
Kelsi Russell
Michal Sierens
Richard Soash
Ben Taylor
Samantha Tyburski
2009 Spring Graduate Program Initiates
Deanna Yvonne Joy Ashe
Melissa Ballard
Donna Faviere
Justin Helm
Rebecca Hollilman
Neppie Monfort Howell
Andrea Catherine Mennell
Lisa Marie Prescott
Marsha Craig Richardson
Wanda R. Schmidt
Elizabeth M. Smidth
Ronda K. Zucco
2008 Senior Class Initiates
Robyn Bethany Baker
Megan Danielle Beddow
Rachel Adair Cook
Alan Michael George
Megan Nicole Goheen
Christopher Joel Hanson
Courtney Grace Jackson
Melissa Sue Kelly
Kaci Erin Kohlhepp
Whitney Shay Lear
Mollie Marie McCullough
Erin Elizabeth McDonald
Katherine Lynn Mohr
Renee Michelle Powell
Francine Neiling Rynd
Tara Vinyette Saco
Rodney Andrew Weseman
2007 Senior Class Initiates
Jessica Brunette
Brittany Monique Denham
AnaCristina Deschamps
Michael Patrick Doyle
Christina Eguizabal
Joelle C. Glenn
Megan Ashley Hoak
Christina Mary Martin
Jeremiah Alexander Burnett Perry
Justin Quinn
Tara Leigh Walker
Jessica Nicole Wodzinski
2007 Junior Class Initiates
Alana Brown
Shayla Ray Bryan
Christopher W. Corbin
Elissa Anne Graeser
Katherine Marie Hildebrandt
Nathan Thomas Jordan
William Lee Posey
Sharon Elaine Quackenbush
Katherine P. Smith
2006 Initiates
Courtney Jo Baker
Megan Marie Brown
Amy Christine Burkett
Jennifer Michelle Corrente
Ivelisse De la Fe
Raquel Encalada
Leah Michelle English
Kristina L. Haselier
Kristina Ann Heitmann
Kristen Marie Helseth
Maria Bridget Hodges
Christina Marie Hoeffner
Leah Ann-Marie Howell
Anton Y. Kivile
Nicole Meagan Lanha
Jessica Lynn Nicolai
Christina Anjuli Parks
Victoria Eugenia Sandbrook
Amanda Meagan Sawyer
Cheryl Lynn Shaffer
Kassandrea Rozlind Staats
Emily Anne Sterling
Sarah Beth-Ann Warren
Rebecca Lauren Wilson
Kathy Lynn Wunderlich
2006 Faculty Initiates
Dr. James M. Denham
Mr. Robert M. MacDonald
Dr. Kathleen Milburn
Dr. Claudia S. Slate
2006 Phi Kappa Phi Graduate Fellowship
2005 Charter Initiates
April Lee Avery
Christoph Barnett
Katie Ellen Bates
Bianca Belle Bethel
Kerri Nicole Bosfield
Seth Alan Bridges
Jennifer Kathleen Brown
Angela Rose Camp
Barbara Jean Carr
John A. Clark
Melissa Nicole Cofta
Brian Jay Curry
Jessica Lynn Davis
Joan Teresa DeHaven
Charissa Celeste Denham
Lindsay Lea Deuster
Jennifer Erin Dunifon
Mindy Allyson Dymon
Kevin Michael Gersch
Nina Sharon Goins
Krista Eileen Hart
Jessica Diane Helm
Nicole Rene Hoover
Katherine L. Jeffrey
Ashley Dawn Kainrad
John E. Kraus
Arturo Rolando Lafuente
Kristine Elizabeth Lott
Jessica Marie MacLennan
Lindsey LeAnn McKnight
Brittany Alicia Melson
Heather Lynn Mock
Allison Peace Molin
Amy Michelle Pareti
Katie Marie Peters
Leslie Rebecca Rodda
Colin O'Neal Sammons
Worthy Jean Sizemore
Erin Lyn Smith
Elizabeth Susan Smokay
Jennifer Lynn Solanes
Amanda Jean Stallard
Leah Ashley Stephens
Cathalain Marie Tobin
Jessica Rae Vaughn
Anastasia Vedenko
Maureen Justine Whelan
Charter Faculty Members
Dr. Stacey E. Boyette
Dr. Alexander Bruce
Dr. Joan Buccino
Dr. Paula Buck
Dr. Susan Conner
Dr. Bruce Darby
Ms. Virginia Dory
Dr. Carmen Gauthier
Dr. John Haldeman
Dr. Kenneth Henderson
Dr. Daniel Jelsovsky
Dr. Gayle Kent
Mr. Randall M. MacDonald
Mr. William Otremsky
Dr. David Rose
Dr. Rebecca Saulsbury
Dr. Susan Serrano
Dr. Risdon Slate
Dr. Robert Tate
Dr. Timothy Toops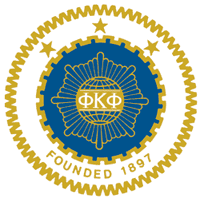 "Let the Love of Learning Rule Humanity"