Thomas Mack
Thomas B. Mack (1914-2004) B.S.A. M.Ed.
Professor Emeritus, Florida Southern College
First Director of the Florida Citrus Archives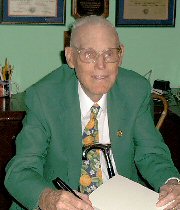 In 1947 Professor Mack began working, and collecting documents and photographs, at the Lake Alfred Experiment Station, and thus began Florida Southern College's Citrus Archives.
Any kind of citrus-based reports, photography, or books were reviewed and filed carefully away for safe keeping. Although collecting was a passion, it was also necessary; Professor Mack was a gifted writer, and the information was used for references in the hundreds of articles he wrote over the years. When he began teaching at Florida Southern College in 1951 his files grew faster. As time went on friends and colleagues discovered his treasure trove and cheerfully added to his collection of all things citrus. By the mid-seventies he no longer had just files. Florida Southern College provided a room in the Jack Berry Citrus Building and an assistant to help manage storage and retrieval of the materials. Then, retiring friends and colleagues began to donate their research work files and personal collections.
On May 4, 2001, the State of Florida declared the collection to be the official archives of the Florida citrus industry. Florida Southern College then provided a home for this wonderful collection of materials at 901 Callahan Court, on the extended campus of the college in Lakeland, Florida. This honor did in fact make one of Professor Mack's fondest dreams a reality.
Just past midnight on December 18, 2004, Professor Mack slipped away quietly in his sleep. He left behind a legacy of caring enough to go above and beyond the ordinary in order to collect and preserve the history of this dynamic industry, and of finding the answers to questions asked by anyone interested in studying citrus.
His legacy continues to grow at the McKay Archives Center, right next to Roux Library. Hours are 8:00 to 12:00 and 1:00 to 5:00 Monday through Friday. Or call the archivist at 863-860-4994.