Honorary Chancellors of Florida Southern College and the Honorary Chancellor Medallion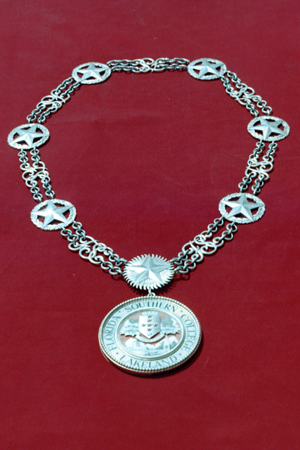 Honorary Chancellors have been named for Florida Southern since 1934, but the Chancellor's chain and medallion were not introduced until March 4, 1952. The chain and medallion are worn by the chancellor during ceremonial occasions while they are in office. The medallion was presented by Cyril Lord as a gift to the college during the Founders' Week of 1952. The medallion was made by the R.G. Hennell Company located in London, England. The Hennell family are well-known silversmiths that have worked in England for centuries, and their work is in embassies, private collections, and museums around the world, including Buckingham Palace.
The focal point of the chain is the seal of Florida Southern College. The seal depicts palm trees, Annie Pfeiffer Chapel, the Hindu Temple, and Florida citrus trees. It is a revision of the original seal from 1906 and was first introduced in 1945 by Lakeland artist Kent Hagerman. The 1906 shield had seven stars and the motto lux sapientia lex - light, wisdom, law. The stars represent hope and one of the brightest constellations in the southern sky, the Southern Cross. The shield itself represented faith that protects the soul from evil, or, more specifically, the unshakable faith in Jesus Christ and his mission upon which the college was founded. The 1945 seal bears a shield with a cross of seven stars, and the motto was reversed to read lex sapientia lux, because it was decided that the right hand of the seal was more important and that "light" should be placed there. The Chancellor's chain also has seven stars that are connected by seven sets of links that form "FSC" monograms.