Florida Southern College Football
Football at Florida Southern? Yes, the college fielded football teams when the school was located in Sutherland and was known as Southern College. The team was also in action for a number of years after the move to Lakeland. The rivalry between Southern and the Stetson Hatters was especially competitive.
As late as 1928, Southern's Moccasins played in the Southern Intercollegiate Athletic Conference.
After 1929, the financing of intercollegiate athletics became increasingly difficult, and the football program was dissolved by 1932. An effort was made the next year - without financial support from the college - to restart the program, but ultimately this effort was not successful.
Southern's Greatest Victory?
Notwithstanding Southern's heralded rivalry with Stetson, perhaps the most impressive sounding victory by today's standards was the Moccasin's 1919 win over the Florida Gators. Southern prevailed by a score of 7-0, which catapulted the Mocs toward the State Championship game... against the Hatters.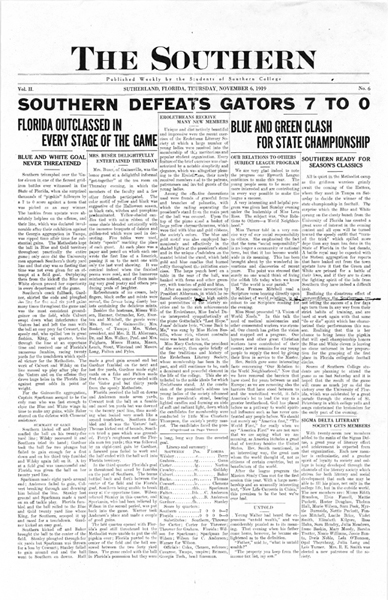 1923 Varsity Football Team Record, 2-4
Southern
St. Petersburg (preseason game)
Oct 13
Southern
Stetson University
W
Oct 24
Southern
Piedmont College
W
Nov 3
Southern
Stetson University
L
Nov 10(?)
Southern
Rollins
L
Nov 17
Southern
University of Florida
L
Nov 23
Southern
Citadel
L
1924 Varsity Football Team Schedule
Sep 27
Southern
vs.
Citadel, at Charleston, SC
Oct 4
Southern
vs.
Presbyterian College, at Lakeland
Oct 11
Southern
vs.
U.S. Infantry School, at Columbus, GA
Oct 25
Southern
vs.
Stetson University, at Deland
Nov 1
Southern
vs.
University of Florida, at Gainesville
Nov 11
Southern
vs.
Rollins College, at Lakeland
Nov 23
Southern
vs.
Newberry College, at Lakeland
Nov 29
Southern
vs.
University of Havana, at Lakeland
Dec 25
Southern
vs.
University of Havana, at Havana, Cuba
1925 Varsity Football Team Record, 2-2
Oct 10
Southern
0
University of Florida
9
L
Oct 17
Southern
27
Georgia A & M
0
W
Nov 11
Southern
18
Rollins
3
W
Nov 25
Southern
6
Birmingham-Southern
9
L
1925 Freshman Football Team Record, _-_
Oct 24
Southern
44
F. M. A.
0
W
1926 Varsity Football Team Record, 4-4
Southern
39
Piedmont College
0
W
Sep 25
Southern
0
University of Florida
16
L
Oct 16
Southern
13
Birmingham-Southern
26
L
Oct 23
Southern
29
Erskine College
0
W
Nov 6
Southern
0
Stetson
17
L
Southern
54
South Georgia
0
W
Nov 20
Southern
35
Rollins
0
W
Thanksgiving
Southern
3
University of Louisville
13
L
1927 Varsity Football Team Record, 2-5-1
Sep 24
Southern
7
University of Florida
26
L
Oct 15
Southern
0
Centenary
26
L
Oct 22
Southern
25
Rollins
3
W
Oct 29
Southern
6
Stetson
6
T
Nov 5
Southern
0
Wofford
31
L
Nov 12
Southern
6
University of Chattanooga
52
L
Nov 19
Southern
37
Rollins
0
W
Nov 24
Southern
0
Mississippi College
12
L
1927 Freshman Football Team Record, 5-0-2
Sep 23
Southern
18
Lakeland High School
6
W
Sep 30
Southern
24
Fort Myers High
0
W
Oct 6
Southern
0
Plant City High
0
T
Oct 14
Southern
13
St. Petersburg Junior College
6
L
Nov 4
Southern
6
Tampa Legion
0
W
Nov 11
Southern
52
Rollins Freshmen
0
W
Nov 18
Southern
12
St. Petersburg Junior College
12
T
1928 Varsity Football Team Record, _-_
Nov 3
Southern
13
Stetson
0
W
Southern
0
University of Chattanooga
19
L
1929 Varsity Football Team Record, 2-5
Sep 25
Southern
0
University of Florida
54
L
Southern
0(?)
South Georgia A & M
7(?)
L
Southern
0
University of Miami
6
L
Southern
19
Stetson
42
L
Southern
6
St. Petersburg Junior College
0
W
Southern
13
Rollins College
0
W
Thanksgiving
Southern
0
Erskine College
26
L
1929 Freshman Football Team Record, 0-4-1
Southern
7
St. Petersburg Junior College
12
L
Southern
7
St. Petersburg Junior College
39
L
Southern
0
Sarasota Independents
0
T
Southern
6
Palm Beach Outlaws
52
L
Southern
0
Stetson Freshmen
18
L
1930 Varsity Football Team Record, 0-6-1
Southern
University of Florida
L
Southern
Mercer
L
Southern
South Georgia A & M
L
Southern
University of Miami
L
Southern
Rollins
T
Southern
Southwestern Louisiana Institute
L
Southern
Stetson
L
1931 Varsity Football Team Record, 4-4-1
Southern
7
Bowdon College
0
W
Southern
21
University of Florida "B" Team
0
W
Southern
31
University of Miami
20
W
Southern
0
Howard College
6
L
Southern
0
Stetson
30
L
Thanksgiving
Southern
0
Erskine
18
L
Southern
14
Winter Haven All-Stars
0
W
Southern
0
Lakeland All-Stars
7
L
Southern
Lakeland All-Stars
T
1932 Varsity Football Team Record, 2-2
Southern
6
Mulberry All-Stars
0
W
Southern
6
Lake Wales Golden Wave
20
L
Southern
6
Lake Wales Golden Wave
18
L
Southern
7
Florida All-Stars
6
W
1933 Varsity Football Team Record, 2-3
Southern
31
Lake Wales Golden Wave
6
W
Southern
0
University of Tampa
21
L
Southern
0
Stetson
73
L
Southern
0
University of Florida Freshmen
39
L
Southern
19
Rollins "B" Team
0
W