Congressman James A. Haley: An Overview
By Jeffrey Zines, Archives Technician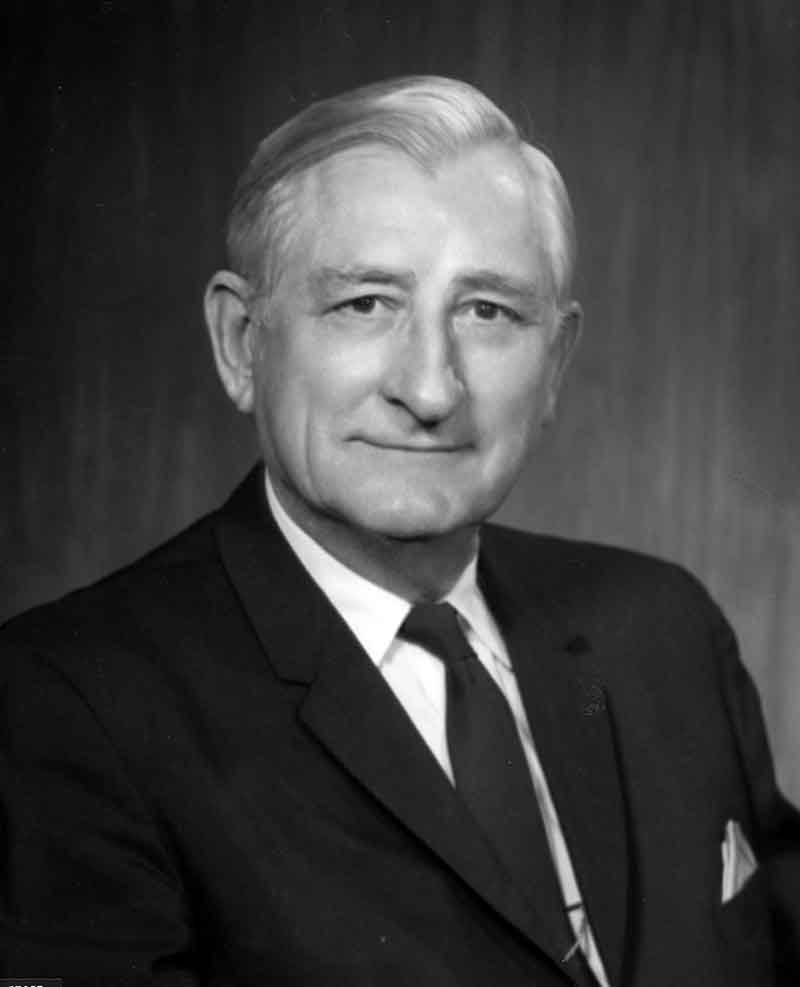 Soldier, businessman, community leader, politician, and statesman, James A. Haley served his nation for over sixty years.
James Andrew Haley was born in Anniston, Alabama on January 4, 1899. He served in the United States Army in France during the First World War and attended the University of Alabama upon his return home. In 1920, he relocated to Sarasota, Florida where he worked as an accountant and auditor. In 1933, he became the general manager of the John Ringling estate.
In 1942, he married Aubrey Ringling, widow of Richard T. Ringling
In 1942, James A. Haley became first vice-president of the Ringling Brothers and Barnum & Bailey Circus organization. He became president of the organization in 1945.
In 1944, a fire broke out as the circus was performing in Hartford, Connecticut. Over one-hundred people were killed, many of whom were children. Haley and five other members of the circus pleaded no-contest to the charge of involuntary manslaughter. He spent a year in prison before he was pardoned by Florida Governor Millard Caldwell.
James A. Haley was involved in Democratic Party politics, as well as many civic and veterans' organizations in the Sarasota area. An act of the Florida Legislature restored his full civil right and in 1948 he was elected to the Florida House of Representatives. He was subsequently re-elected in 1950. In 1951, he was chosen to head a committee assigned to the investigation of crime and corruption in state government.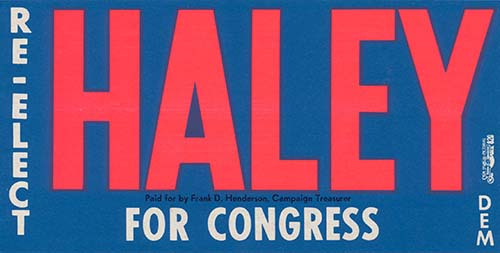 James Haley served as a delegate to the Democratic National Convention in 1952, 1956, and 1960.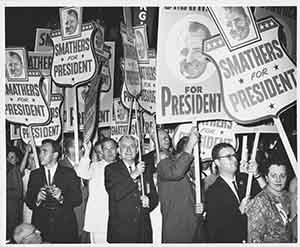 In the above picture, Haley is in the center, showing his support for Florida Senator George Smathers, the "favorite son" candidate for president at the 1960 Democratic Convention in Los Angeles.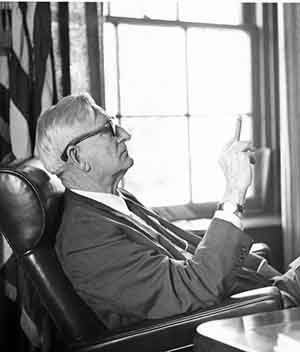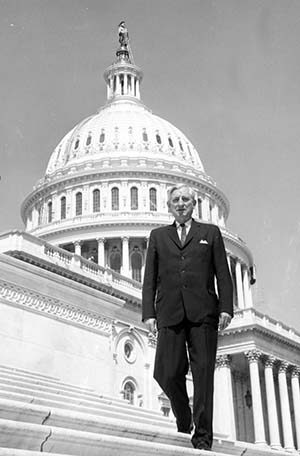 Congressman Haley's time in office spanned one of the most turbulent and fascinating periods in American History. Issues ranging from Civil Rights and Communism to Vietnam and Watergate dominated the headlines. Haley's congressional papers (at the McKay Archives, Florida Southern College) contain correspondence, articles, and documents relating to nearly every major and minor issue of the 1950s through the 1970s.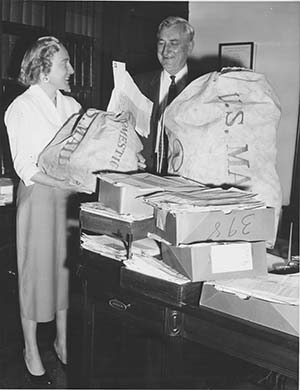 James Haley and Alice Myers check the mail (no date)
During his twelve terms in congress, James Haley served on the Veterans Affairs Committee.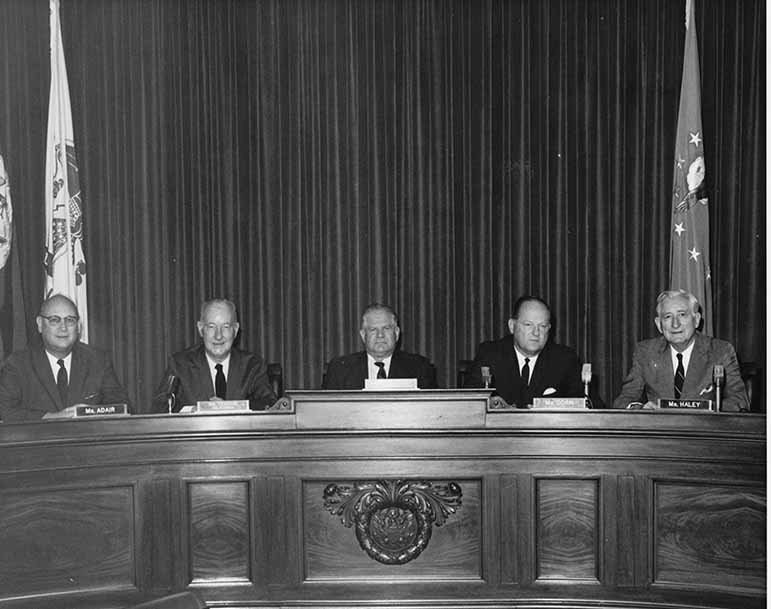 House Veterans' Affairs Leadership (c. 1969)
He also served as chairman of the Hospital Subcommittee and the Indian Affairs Subcommittee.
From 1973-1977, he served as chairman of the Committee on Interior and Insular Affairs.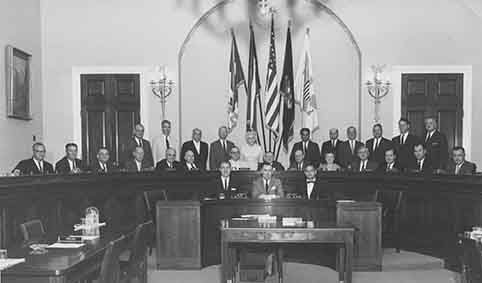 House Interior and Insular Affairs Committee (July 28, 1961)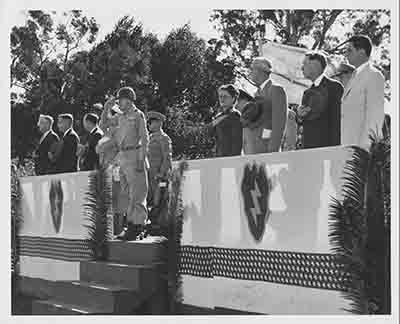 Hawaiian Statehood Hearing, House Committee on Interior and Insular Affairs (c.1955)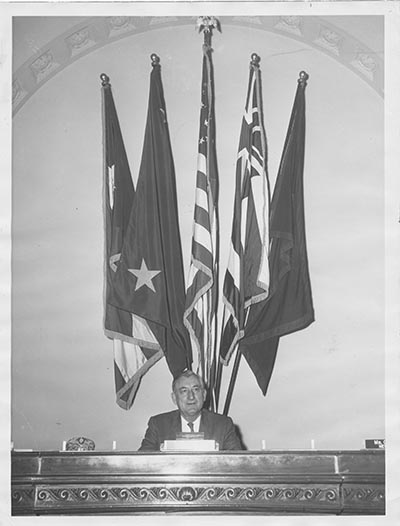 James A. Haley retired from the United States Congress on January 3, 1977 and was succeeded by Andy Ireland. Haley passed away at his home in Sarasota on August 6, 1981
For more information on James A. Haley, please visit the James A. Haley Congressional Papers at the Sarah D. and L. Kirk McKay Archives Center at Florida Southern College.